Letter to the RCMP Commissioner
Regarding calling for a criminal investigation of MindGeek and its subsidiaries
Dear Commissioner,
We join the voices of over 100 survivors of sexual exploitation along with hundreds of non-governmental organizations to call for a full criminal investigation into MindGeek and its subsidiaries.
Over the past month, the Standing Committee on Access to Information, Privacy and Ethics has heard shocking evidence from survivors and child protection agencies that MindGeek has regularly made available content featuring child sexual abuse, sexual assault, and sex trafficking.
Even more alarming, we have heard evidence that MindGeek continues to make available material featuring child sexual abuse material and non-consensual acts as one survivor testified to the Ethics Committee on February 19, 2021: "Thanks to Pornhub, today is day 1,292 that I have been naked on these porn sites."
Canada has strong laws to combat this type of horrific exploitation such as Criminal Code sections 162.1, 163.1 and an Act Respecting the Mandatory Reporting of Internet Child Pornography by Persons Who Provide an Internet Service. However, these laws can only protect vulnerable individuals through robust investigation and application by law enforcement.
In the case of mandatory reporting, survivors, lawyers, and child protection agencies like the Canadian Centre for Child Protection and the U.S. National Center for Missing & Exploited Children (NCMEC) have confirmed that MindGeek failed to comply and report to Canadian law enforcement between 2011 and 2020.
With numerous documented cases of child sexual abuse material published by MindGeek websites stretching back years, we were shocked to learn during the RCMP's testimony on February 22, 2021 at the Ethics Committee that the RCMP had zero outstanding investigations regarding MindGeek.
It is absolutely unacceptable that a Canadian company continues to operate in Canada with seeming impunity to our laws. We expect Canada's Royal Mounted Police to fulfil its mandate of combatting online child sexual abuse through proactive multi-jurisdictional investigations into every Canadian entity that contravenes our laws.
Thank you for your immediate attention to this urgent matter.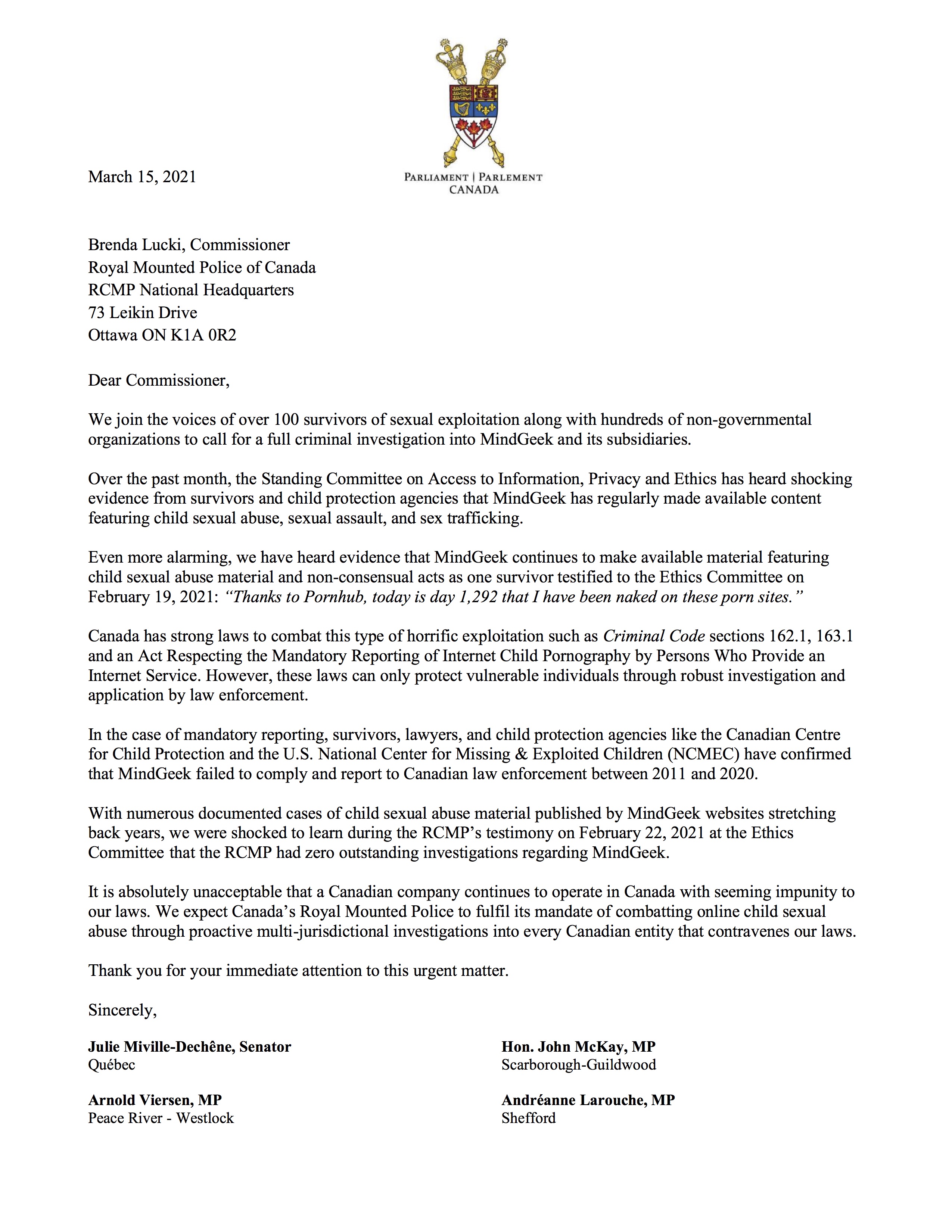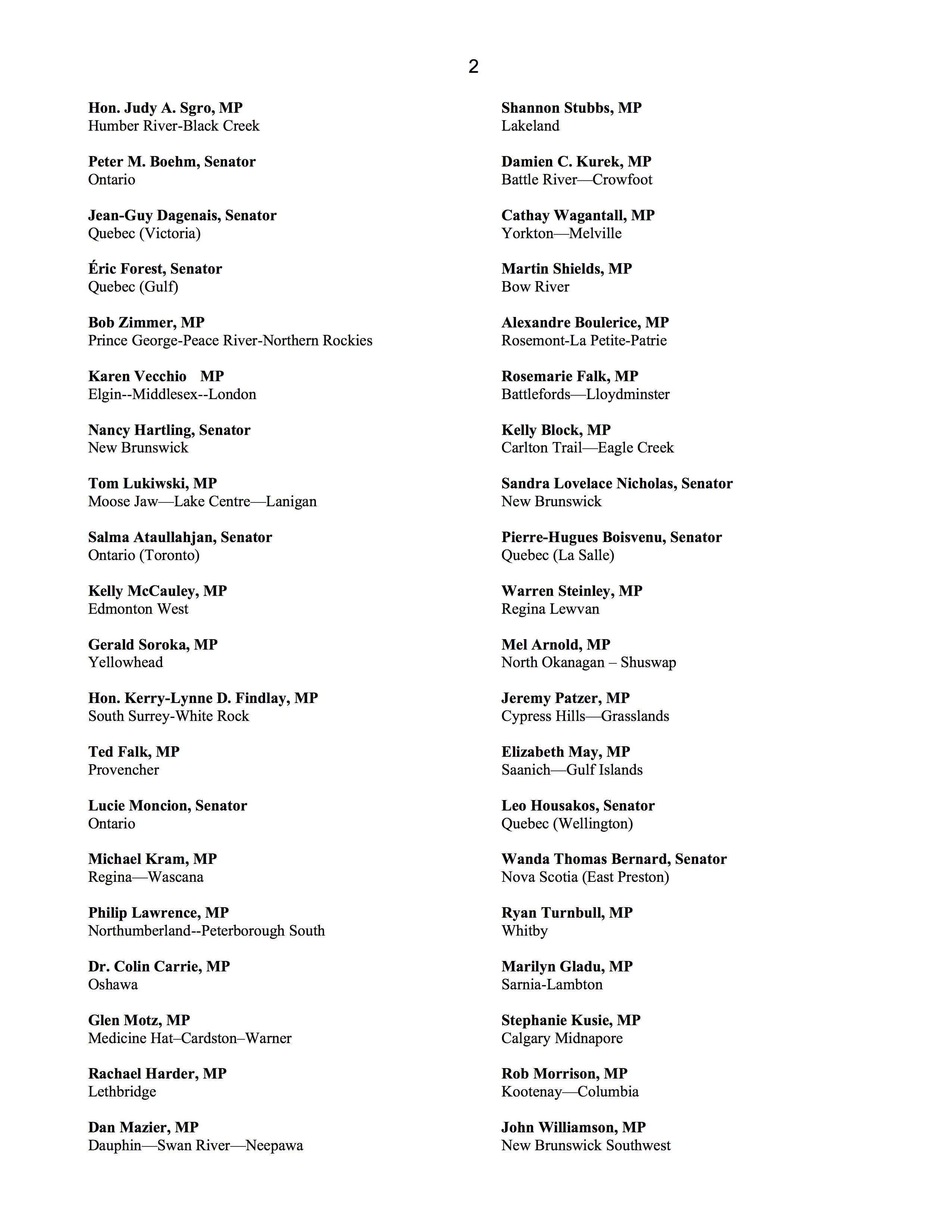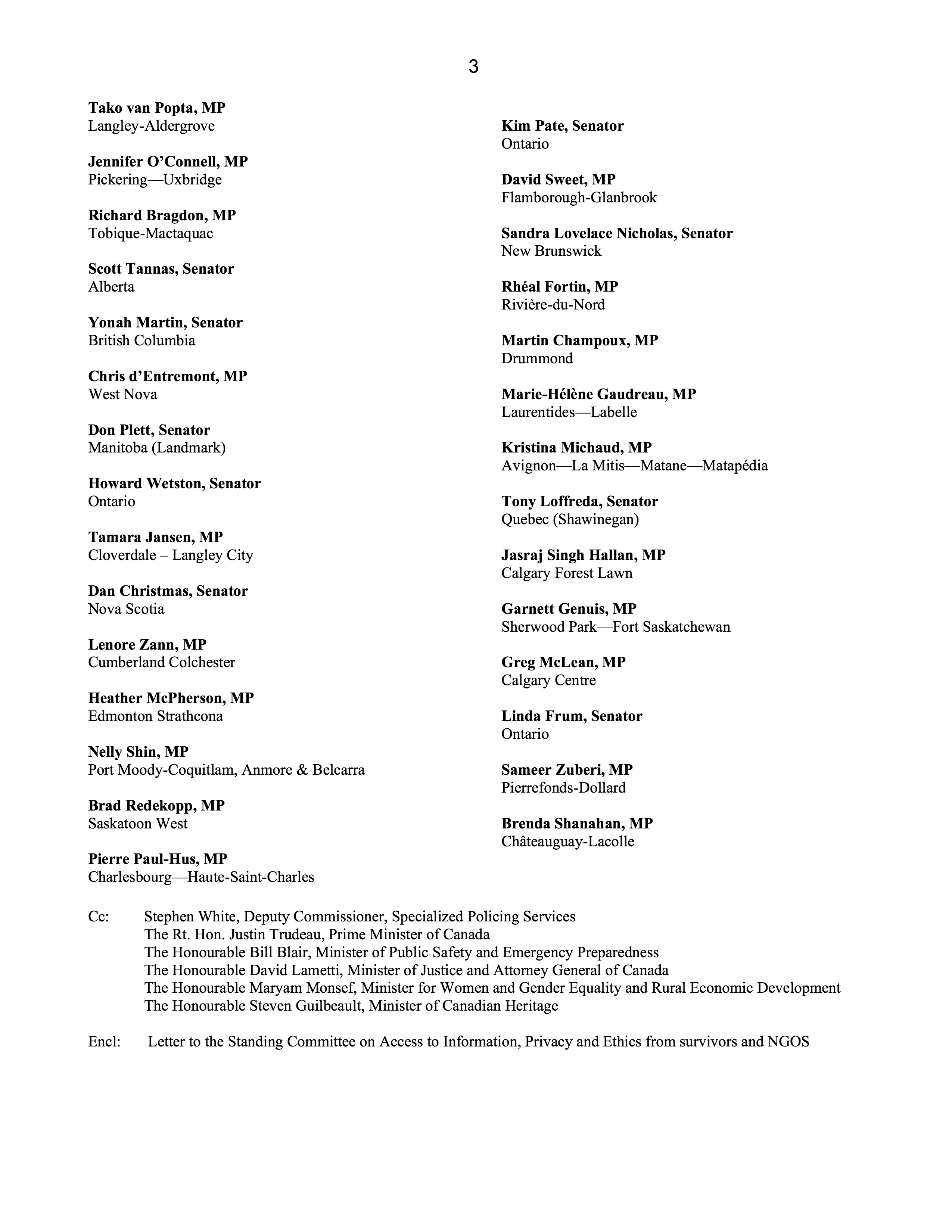 ---
Madame,
Nous joignons nos voix à celles de plus de 100 survivantes de l'exploitation sexuelle et de centaines d'organisations non gouvernementales pour demander une enquête criminelle complète sur MindGeek et ses filiales.
Au cours du mois dernier, le Comité permanent de l'accès à l'information, de la protection des renseignements personnels et de l'éthique a entendu des témoignages troublants de survivantes et d'organismes de protection de l'enfance selon lesquels MindGeek rend régulièrement disponibles des contenus mettant en scène des sévices sexuels sur des enfants, des agressions sexuelles et de l'exploitation sexuelle.
Ce qui est encore plus alarmant, c'est que nous avons entendu des témoignages selon lesquels MindGeek continue de rendre accessible du matériel mettant en scène des agressions sexuelles sur des enfants et des actes non consensuels, comme l'a déclaré une survivante devant le Comité d'éthique le 19 février 2021 : « Grâce à Pornhub, j'ai passé jusqu'à maintenant exactement 1 292 jours entièrement nue dans ces sites pornographiques. »
Le Canada dispose de lois strictes pour lutter contre ce type d'exploitation horrible, telles que les articles 162.1 et 163.1 du Code criminel et la Loi concernant la déclaration obligatoire de la pornographie juvénile sur Internet par les personnes qui fournissent des services Internet. Toutefois, ces lois ne peuvent protéger les personnes vulnérables que par le biais d'enquêtes approfondies et d'une application rigoureuse de la part des forces de l'ordre.
Dans le cas du signalement obligatoire, des survivantes, des avocats et des agences de protection de l'enfance comme le Centre canadien de protection de l'enfance et le Centre national américain pour les enfants disparus et exploités (NCMEC) ont confirmé que MindGeek ne s'était pas conformé et n'avait pas fait rapport aux autorités policières canadiennes entre 2011 et 2020.
Étant donné qu'il existe de nombreux cas documentés de contenu mettant en scène des sévices sexuels sur des enfants publiés par les sites Web de MindGeek depuis des années, nous avons été choqués d'apprendre que la GRC n'avait aucune enquête en cours concernant MindGeek lors de son témoignage du 22 février 2021 devant le Comité d'éthique.
Il est absolument inacceptable qu'une entreprise canadienne continue de se livrer à ces activités en toute impunité au regard de nos lois. Nous attendons de la Gendarmerie royale du Canada qu'elle remplisse son mandat de lutte contre les abus pédosexuels en ligne par le biais d'enquêtes multijuridictionnelles proactives contre toute entité canadienne qui enfreint nos lois.
Nous vous remercions de porter une attention immédiate à cette question urgente.