Heather McPherson
Edmonton Strathcona
Member of Parliament for Edmonton Strathcona
Heather McPherson was first elected to represent the riding of Edmonton Strathcona in the House of Commons of Canada in October 2019 and re-elected in September 2021. Heather is currently serving as the New Democratic Party deputy whip, critic for foreign affairs, critic for international development, and deputy critic for Canadian Heritage. She previously served as deputy House leader.
During her first term as MP, Heather secured $2 billion in funding for safer schools, advocated for federal support for Campus Saint-Jean, and led the fight against coal mining in the Eastern Slopes of Alberta's Rocky Mountains. She tabled two private members' bills: Bill C-308, An Act to amend the Impact Assessment Act, which would force federal environmental oversight of proposed coal projects, taking the future of coal mining in the Rockies out of Jason Kenney's hands; and Bill C-312, the Canada Post-Secondary Education Act, which would create a standalone Post-Secondary Education transfer and set out criteria that provinces would have to meet in order to receive the transfer.
Prior to becoming MP, Heather spent over 20 years working on sustainable development and international cooperation efforts through the non-profit sector, including 10 years as Executive Director of the Alberta Council for Global Cooperation. Heather worked closely with the Canadian and international community, focusing on sustainable development, good governance, and human rights. Heather has a master's degree from the University of Alberta in Educational Policy Studies in Theoretical, Cultural, and International Studies in Education, with a focus on incorporating indigenous knowledges in the achievement of sustainable development.
Heather lives in Edmonton, Alberta with her partner and two children where she takes full advantage of the proximity to lakes, forests, and mountains.
Latest News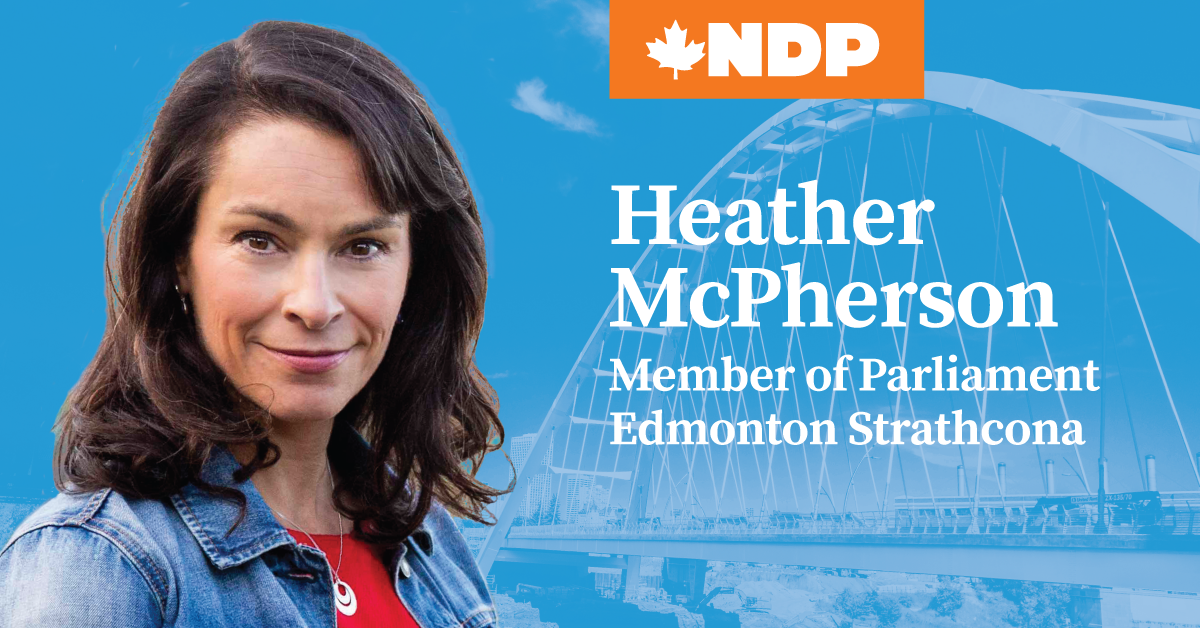 September 25
Create Your Canada PMB Contest for Students (Grades 11 & 12)
Create Your Canada is a contest for young people from across the riding of Edmonton Strathcona. It is an opportunity for students to submit their ideas for a new federal law with the aim of making Canada a stronger, and better country for all.
more »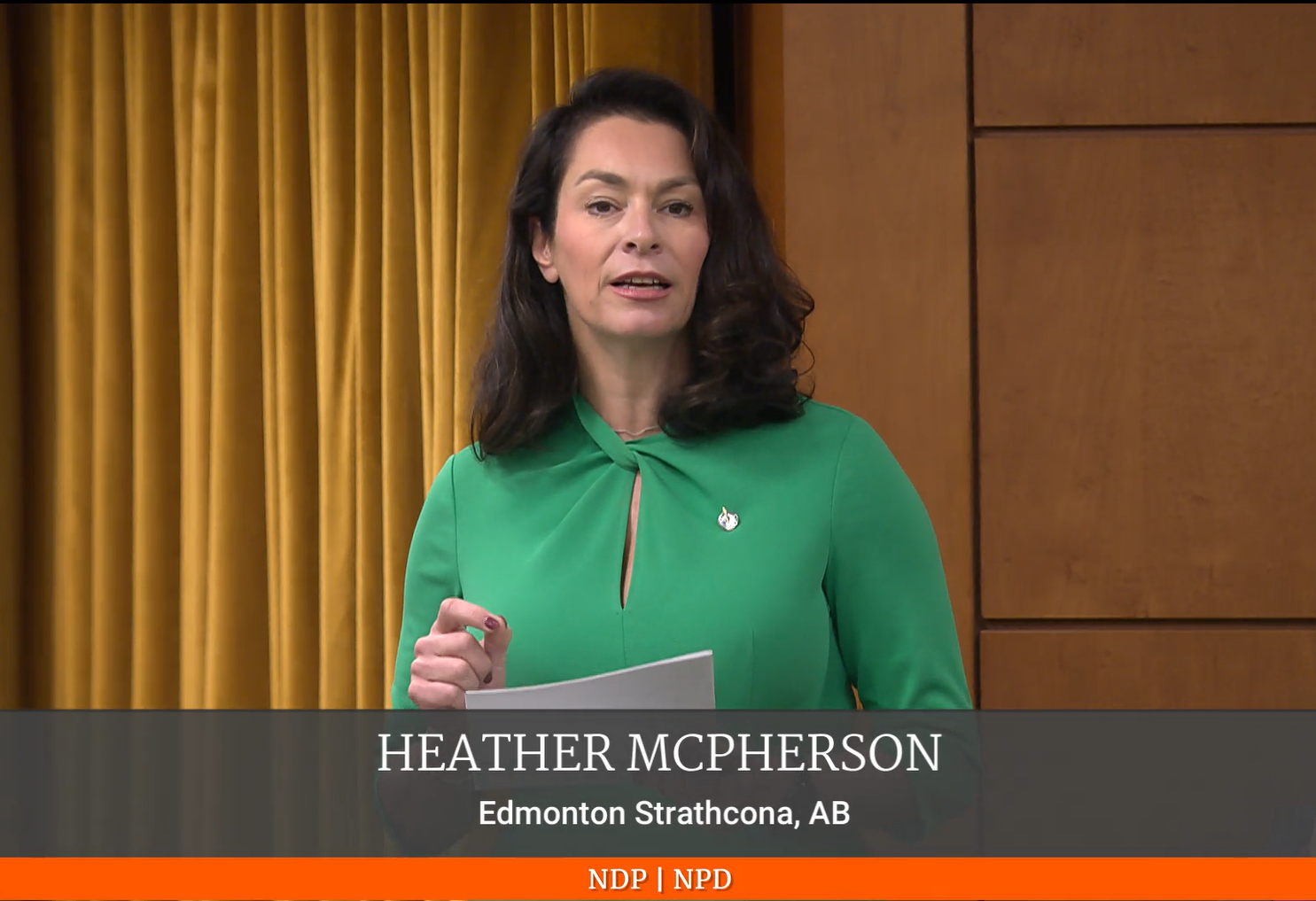 October 16
House of Commons Statement on Israel Palestine
On Monday October 16, I made the following statement on behalf of New Democrats in the House of Commons.
more »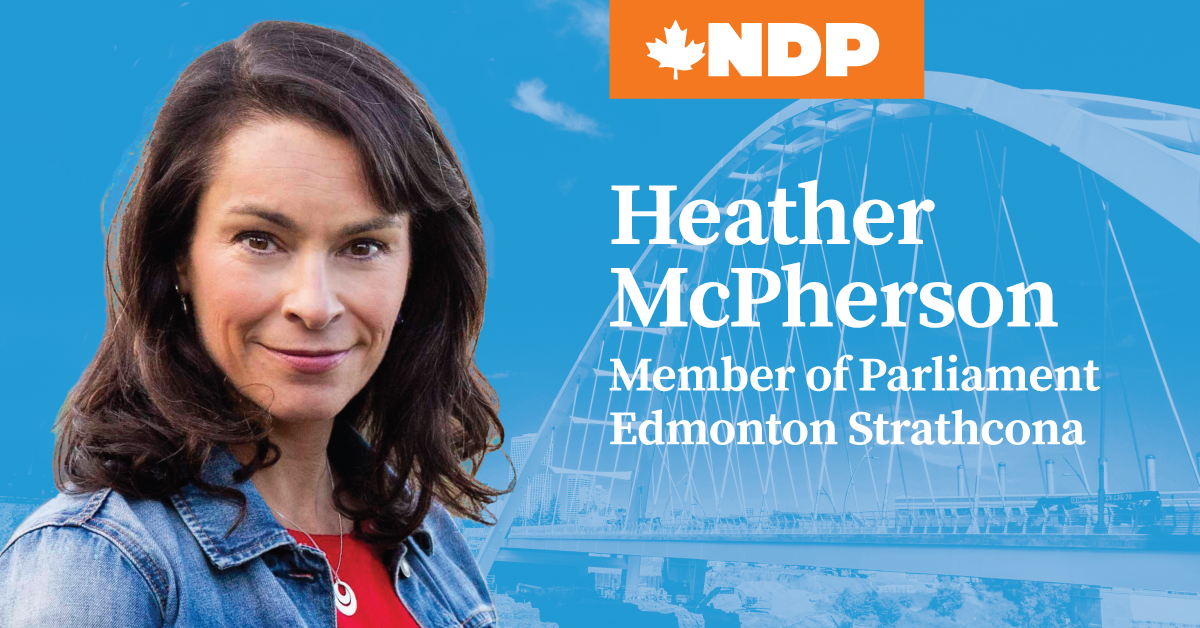 October 2
Letter to Minister Joly regarding Canadian weapons sales to Saudi Arabia
The Honourable Mélanie Joly Minister of Foreign Affairs Global Affairs Canada
more »