Letter to Minister Hussen
Regarding Housing Co-Operatives eligible to receive funding for rent subsidy
Dear Minister Hussen,
We are writing to express our grave concerns that Section 95 housing co-operatives whose operating agreements expired prior to April 1, 2016 have been excluded from the Phase 2 of the Federal Community Housing Initiative (FCHI) under the National Housing Strategy. As you are aware, the FCHI Phase 2 provides rental assistance for low-income member-residents under the National Housing Strategy.
By excluding these co-ops from accessing any rental assistance, a total of 277 co-operatives are negatively impacted by this arbitrary decision affecting over 7,500 households in Alberta, British Columbia, Ontario, PEI and Quebec. Equally disturbing is the fact that co-ops with operating agreements established under what CMHC then called the Urban Native Housing Program are also excluded from receiving continued rent subsidy through FCHI Phase 2.
We should not have to remind you that one out of eight households in Canada lives in unstable, overcrowded, moldy, cold or unaffordable housing. Indigenous peoples are disproportionally represented amongst the homeless population. In fact, they are 11 times more likely to be homeless.
By choosing not to provide rental assistance to these cooperatives, the Federal government is actively displacing low- and limited-income families and putting them at risk of homelessness during a housing crisis in the middle of a pandemic.
This flies in the face of your government's declaration in 2017 that adequate housing is a basic human right. It further contradicts your government's expressed wish to end chronic homelessness. The loss of these units will add to the overall loss of low-income housing stock across the country. As you know, it is estimated that 322,000 units of affordable housing were lost between 2011-2016. The last thing we need is for the federal government to add to the problem.
According to data collected by the Co-Operative Housing Federation of Canada (CHF), this fate has already befallen some housing co-op members. A patchwork of provincial and municipal programs have provided some temporary stop-gaps to prevent member-residents from losing subsidy but those temporary agreements are set to expire this year. Some co-operatives in Alberta have already been forced to raise their rent rates beyond what families in deep core need to afford, leaving those families with no alternative but to leave the co-op. In London, Ontario, the Native Inter-Tribal Co-Op has been
It is inexplicable why tenants whose co-op happens to have paid off the mortgage before a
fixed date are not entitled to continued support—despite no change whatever in the tenants' need or
any difference in their need versus the need of those with later pay-off dates.
forced to sell off some units after losing subsidy with the expiry of its operating agreements. If your government had chosen to extend funding for rent subsidy to housing co-operatives after the final payments of the CMHC mortgages these devastating outcomes could have been averted.
Minister, the solution to this problem lies squarely in your hands. Your Department has known since it ended these subsidies in 2016 that this dire circumstance has been looming over the housing co-op sector and yet has only exacerbated the problem with the exclusionary criteria in the FCHI Phase 2 funding envelope.
Rent subsidy should be maintained for all co-operatives who exit their federal operating agreements, as a measure of continued federal support for a robust community housing sector. It will avoid placing further pressure downstream on provincial and municipal housing programs that are already in desperate need of federal support to meet the demand for safe, affordable housing. It will prevent the displacement of low-income families who have found stability and belonging in their co-operative communities.
CHF Canada has calculated that an annual investment of only $5.3 million, beginning this year, would fund extending a deep core need rental subsidy to those 277 housing co-operatives whose operating agreements expired prior to 2016, and would allow those co-ops to provide subsidy to an average of up to 20% of member-residents. Similarly, urban Indigenous co-operatives founded under the former Urban Native Housing Program should be eligible to receive rental subsidy for 100% of units, as a part of a broader Urban, Rural and Northern Indigenous Housing Strategy.
Given that this is a matter of urgency, and very time-sensitive for housing co-ops like the Grandview Housing Co-Operative in Vancouver East who will see interim rental subsidy supports end in December of this year, we call on your government to immediately commit to the provision of rental subsidy to those pre-April 2016 housing co-operatives, to prevent any further housing losses for co-operative member-residents in deep core housing need.
Your urgent attention on this critical issue is much appreciated and we look forward to a reply at your earliest possible convenience.
Sincerely,
Jenny Kwan MP for Vancouver East, NDP Critic for Housing
Jagmeet Singh, MP for Burnaby South, Leader Canada's New Democrats
Alexandre Boulerice, MP for Rosemont—La-Petite-Patrie
Laurel Collins, MP for Victoria
Scott Duvall, MP for Hamilton Mountain
Randall Garrison, MP for Esquimalt—Saanich—Sooke
Matthew Green, MP for Hamilton Centre
Carol Hughes, MP for Algoma—Manitoulin—Kapuskasing
Gord Johns, MP for Courtenay—Albern
Peter Julian, MP for New Westminster—Burnaby
Alistair MacGregor, MP for Cowichan—Malahat—Langford
Brian Masse, MP for Windsor West
Lindsay Mathyssen, MP for London—Fanshawe
Heather McPherson, MP Edmonton Strathcona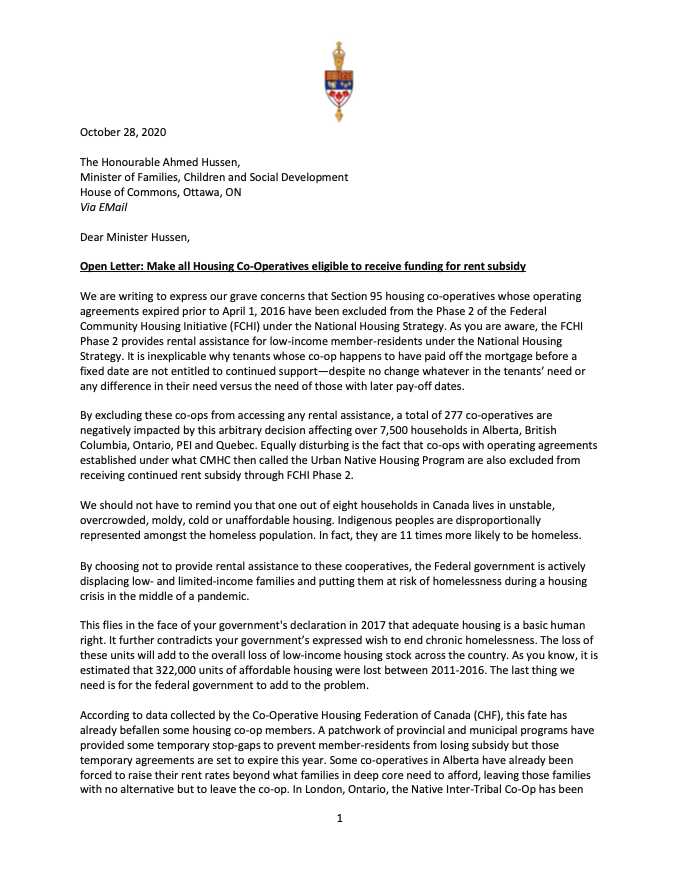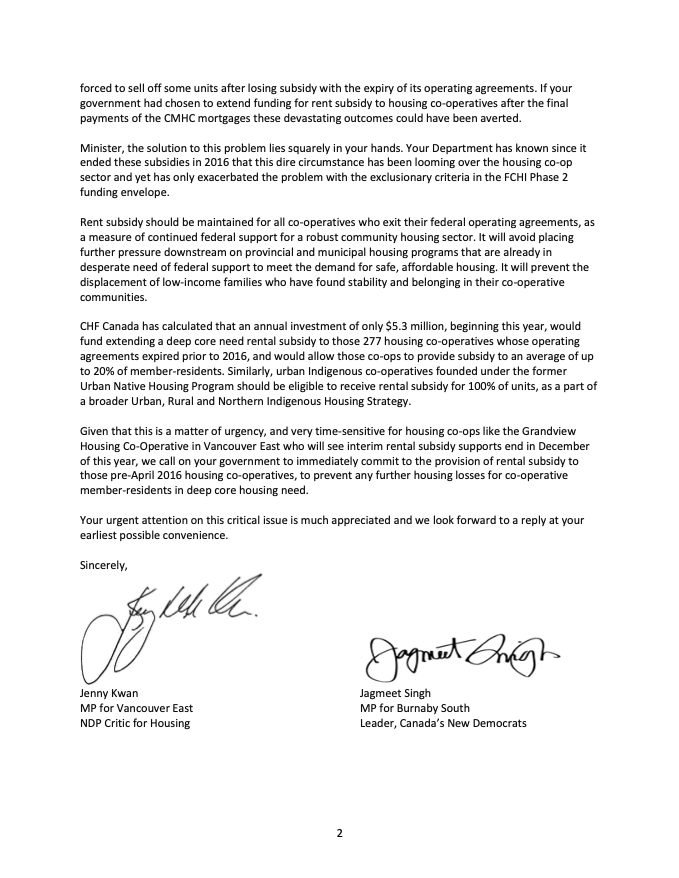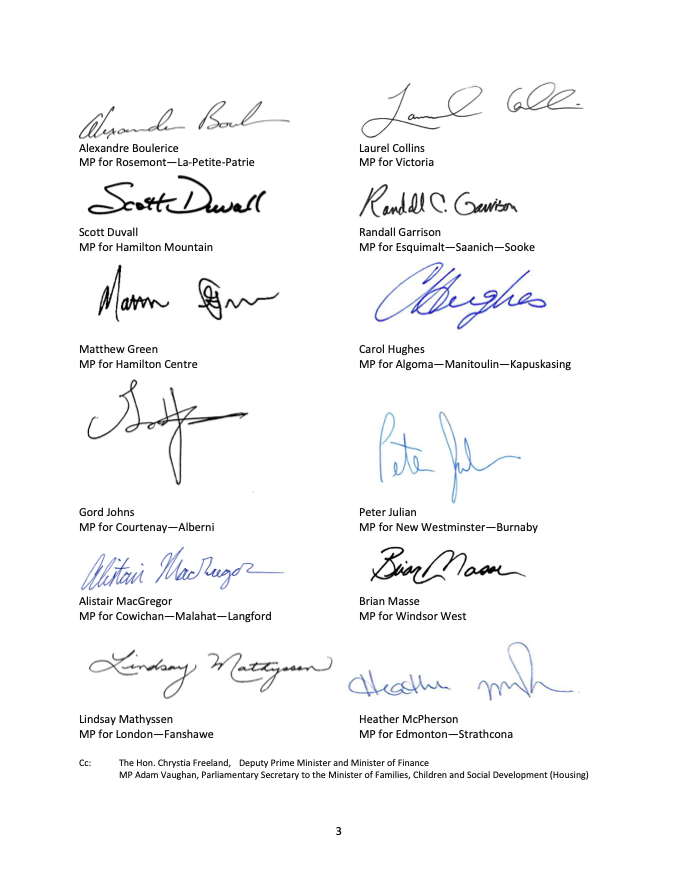 ---
Lettre au ministre Hussen
Concernant les coopératives d'habitations éligibles à recevoir une subvention au loyer
Monsieur le Ministre,
Nous tenons à vous faire connaître par la présente notre vive inquiétude face à l'exclusion de la phase 2
de l'Initiative fédérale de logement communautaire (IFLC) dans le cadre de la Stratégie nationale sur le logement qui touche les coopératives d'habitation du programme de l'article 95 dont l'accord d'exploitation a expiré avant le 1er avril 2016. Comme vous le savez, la phase 2 de l'IFLC offre une aide au loyer aux membres résidents à faible revenu au titre de la Stratégie nationale sur le logement. Comment expliquer que des locataires dont la coopérative a réussi à rembourser l'hypothèque avant une date fixe n'aient plus droit à un soutien, alors que leurs besoins n'ont nullement changé par rapport aux besoins des locataires dont la coopérative a une date de remboursement plus tardive?
L'exclusion de ces coopératives de toute aide au loyer en vertu d'une décision arbitraire a des conséquences négatives sur 277 coopératives et plus de 7 500 ménages en Alberta, en Colombie-Britannique, en Ontario, à l'Île-du-Prince-Édouard et au Québec. Il est tout aussi consternant que les coopératives dont l'accord d'exploitation a été établi dans le cadre de l'ancien Programme de logement des Autochtones en milieu urbain de la SCHL soient également exclues de l'aide au loyer de la phase 2 de l'IFLC.
Est-il besoin de vous rappeler qu'un ménage sur huit au Canada habite un logement précaire, surpeuplé, contaminé par les moisissures, mal chauffé ou inabordable? Les Autochtones sont surreprésentés parmi les sans-abri. En fait, ils sont 11 fois plus susceptibles d'être sans domicile fixe.
En choisissant de priver ces coopératives d'une aide au loyer, le gouvernement fédéral déplace activement des familles à revenu faible ou modeste et les expose au risque de se retrouver sans abri pendant une crise du logement en pleine pandémie.
Cela va à l'encontre de la déclaration de votre gouvernement en 2017 selon laquelle un logement adéquat constitue un droit humain fondamental. Cela contredit en outre la volonté exprimée par votre gouvernement de mettre fin à l'itinérance chronique. La perte de ces logements viendra s'ajouter à la réduction globale du parc de logements à loyer modique à l'échelle du pays. Selon des estimations que vous connaissez,
322 000 logements abordables sont disparus entre 2011 et 2016. Il ne manquerait plus que le gouvernement fédéral aggrave le problème.
D'après des données recueillies par la Fédération de l'habitation coopérative du Canada (FHCC), c'est le sort qu'ont déjà connu certains membres de coopératives d'habitation. Un ensemble disparate de programmes provinciaux et municipaux ont mis en place des mesures temporaires pour empêcher les membres résidents de perdre leur subvention, mais ces mesures temporaires prendront fin cette année. Certaines coopératives en Alberta ont déjà été contraintes d'augmenter leurs loyers au-delà de ce que peuvent se permettre les familles ayant des besoins impérieux, de sorte que celles-ci n'ont d'autre choix que de quitter la coopérative.
À London, en Ontario, la Native Inter-Tribal Co-Op a dû vendre des logements après avoir perdu sa subvention à l'expiration de ses accords d'exploitation. Si votre gouvernement avait choisi de prolonger le financement des subventions au loyer des coopératives d'habitation après le remboursement intégral des hypothèques de la SCHL, ces effets dévastateurs auraient pu être évités.
Monsieur le Ministre, la solution au problème repose entre vos mains. Votre ministère sait depuis qu'il a mis fin aux subventions en 2016 que cette situation difficile menaçait le secteur des coopératives d'habitation. Or, il n'a fait qu'exacerber le problème en établissant les critères d'exclusion de l'enveloppe budgétaire de la phase 2 de l'IFLC.
Le subventionnement du loyer de toutes les coopératives dont l'accord d'exploitation avec le gouvernement fédéral prend fin doit être maintenu, afin de prolonger le soutien fédéral à un secteur du logement communautaire dynamique. Cette mesure éviterait d'accentuer la pression en aval sur des programmes de logement provinciaux et municipaux qui ont désespérément besoin d'un soutien fédéral pour répondre à la demande de logements sûrs et abordables. Elle empêcherait le déplacement de familles à faible revenu qui ont trouvé de la stabilité et un sentiment d'appartenance au sein de leur communauté coopérative.
Selon les calculs de la FHCC, il suffirait d'un investissement annuel de seulement 5,3 millions de dollars, à compter de cette année, pour financer l'aide au loyer de ménages ayant des besoins impérieux par l'entremise des 277 coopératives d'habitation dont l'accord d'exploitation a expiré avant 2016, et qui pourraient alors subventionner le loyer de 20 % des membres résidents en moyenne. De même, les coopératives autochtones en milieu urbain fondées dans le cadre de l'ancien Programme de logement des Autochtones en milieu urbain devraient être admissibles à une aide au loyer pour tous les logements au titre d'une stratégie du logement pour les Autochtones en milieu urbain et rural et dans le Nord.
Étant donné que le temps presse pour des coopératives d'habitation comme la Grandview Housing Co-Operative à Vancouver-Est qui verront l'aide provisoire au loyer prendre fin en décembre cette année, nous exhortons votre gouvernement à s'engager immédiatement à fournir une aide au loyer à ces coopératives d'habitation d'avant avril 2016, pour éviter qu'un plus grand nombre de membres résidents ayant des besoins impérieux ne perdent leur logement.
Nous vous remercions de porter une attention immédiate à cette question cruciale et espérons recevoir bientôt votre réponse.
Veuillez agréer, Monsieur le Ministre, l'assurance de notre haute considération.
Cordialement,
Jenny Kwan, Députée Vancouver-Est, Porte-parole pour Logement
Jagmeet Singh, Député Burnaby Sud, Chef du Nouveau Parti démocratique du Canada
Alexandre Boulerice, Député Rosemont—La-Petite-Patrie
Laurel Collins, Députée Victoria
Scott Duvall, Député Hamilton Mountain
Randall Garrison, Député Esquimalt—Saanich—Sooke
Matthew Green, Député Hamilton-Centre
Carol Hughes, Député Algoma—Manitoulin—Kapuskasing
Gord Johns, Député Courtenay—Alberni
Peter Julian, Député New Westminster—Burnaby
Alistair MacGregor, Député Cowichan—Malahat—Langford
Brian Masse, Député Windsor-Ouest
Lindsay Mathyssen, Députée London—Fanshawe
Heather McPherson, Députée Edmonton—Strathcona