MP McPherson urges UCP to use federal dollars for education wisely
EDMONTON – After successfully fighting to get federal funding to help with back to school this year, NDP MP for Edmonton Strathcona Heather McPherson is calling on Jason Kenney's UCP government to make sure the federal money goes where it is most needed to keep Alberta kids safe.
Earlier this week, McPherson wrote to the Premier and Minister of Education to reiterate her call for the province to use the federal money as new and additional funding. And to make sure it's used to make schools across the province safer.
"People in our province are anxious and afraid because they don't feel the Premier, the Education Minister, or the government is listening to them or putting the needs of their kids first," said McPherson. "While I am pleased we were able to get all party support for this funding in the House of Commons, after already watching the Jason Kenney government give away $4.7 billion in handouts to big corporations, a lot of parents – myself included – are concerned that the UCP will not ensure that funding will go directly to where it can be of most benefit."
On August 12, while meeting in the House of Commons, the NDP was able to get all parties to vote for McPherson's proposal, including federal funding to provinces to support a safe return to school. Last week, the federal government confirmed they were moving ahead with the funding and that $262.8 million would be coming to Alberta. Today, the Minister of Education is finally announcing how that money will be spent.
"As both a Member of Parliament from Alberta and a mother who is concerned about the health and safety of my own two children returning to school, I stand with parents, teachers, and support staff from every corner of the province who are asking the provincial government to stop failing our kids and get this money where it's needed, now," said McPherson. "The provincial government needs to get out of the way and let this federal money do the job Jason Kenney and Minister LaGrange have failed to do."
-30 -
For more information, contact: Office of Heather McPherson, MP – 780-495-8404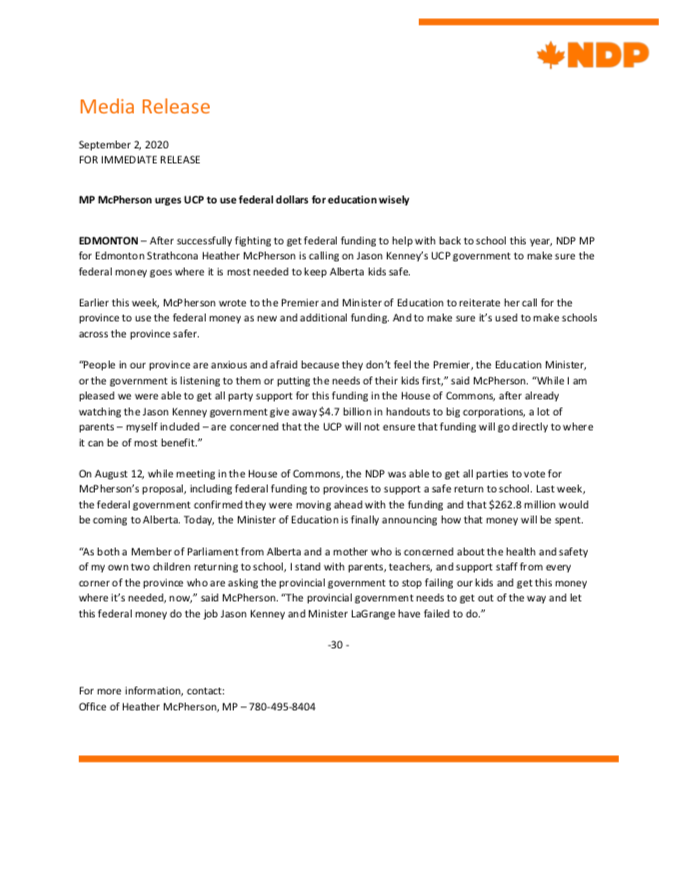 ---
La députée Heather McPherson exhorte le PCU à utiliser judicieusement les fonds fédéraux pour l'éducation
EDMONTON – Après s'être battue avec succès pour obtenir des fonds fédéraux pour aider à la rentrée scolaire cette année, la députée néo-démocrate d'Edmonton Strathcona, Heather McPherson, demande au gouvernement PCU de Jason Kenney de s'assurer que l'argent fédéral va là où il est le plus nécessaire pour assurer la sécurité des enfants albertains.
En début de semaine, Mme McPherson a écrit au premier ministre et à la ministre de l'Éducation pour réitérer son appel à la province d'utiliser l'argent fédéral comme un financement nouveau et supplémentaire et de s'assurer qu'il est utilisé pour rendre les écoles de la province plus sûres.
« La population de notre province est anxieuse et a peur parce qu'elle n'a pas l'impression que le premier ministre, la ministre de l'Éducation ou le gouvernement les écoutent ou font passer les besoins de leurs enfants en premier, a déclaré Mme McPherson. Bien que je sois heureuse que nous ayons pu obtenir le soutien de tous les partis à la Chambre des communes pour ce financement, après avoir déjà vu le gouvernement de Jason Kenney distribuer 4,7 milliards de dollars en cadeau aux grandes entreprises, beaucoup de parents – moi y compris – craignent que le PCU ne garantisse pas que les fonds iront directement là où ils peuvent être le plus utiles. »
Le 12 août, le NPD a réussi à faire voter tous les partis à la Chambre des communes en faveur de la proposition de Mme McPherson, y compris le financement fédéral aux provinces pour soutenir un retour à l'école en toute sécurité. La semaine dernière, le gouvernement fédéral a confirmé qu'il allait de l'avant avec ce financement et que 262,8 millions de dollars seraient versés à l'Alberta. Aujourd'hui, la ministre de l'Éducation annonce enfin comment cet argent sera dépensé.
« En tant que députée de l'Alberta et mère préoccupée par la santé et la sécurité de mes deux enfants qui retournent à l'école, je me joins aux parents, aux enseignant·es et au personnel de soutien de tous les coins de la province qui demandent au gouvernement provincial de ne pas laisser tomber nos enfants et de verser cet argent là où il est nécessaire, maintenant, a déclaré Mme McPherson. Le gouvernement provincial doit laisser cet argent fédéral faire le travail que Jason Kenney et la ministre LaGrange n'ont pas réussi à faire. »